A rectangular garden is to be twice as long as it is…
Solution:
We first draw a diagram of our garden. The length of the rectangular garden is twice as long is it is wide. Thus, we know:
length = 2(width)
Thus, we can label length as 2w, where w = width. Let's plug these values into the diagram.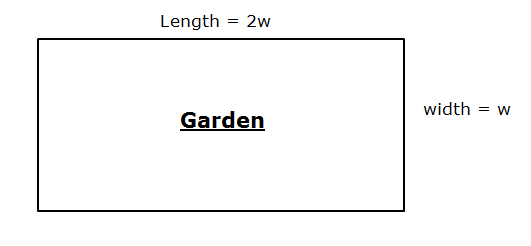 We are given that 360 yards of fencing will completely enclose the garden; thus, the perimeter of the garden is 360 yards. The formula for the perimeter of a rectangle is:
perimeter = 2(length) + 2(width)
Knowing that length = 2w, width = w, and perimeter = 360 we can plug all this info into our perimeter equation:
360 = 2(2w) + 2w
360 = 4w + 2w
360 = 6w
60 = w
Since the width of the garden is 60 yards, the length is 2 x 60 = 120 yards.
Answer: A