In the rectangular coordinate above, if point R…
Solution:
We are given that a triangle is created using the x- and y-axes of the coordinate plane. The vertices of the triangle fall at point P (4,0), the origin (0,0), and point R (0,y). We see that we do not know the y-coordinate of point R. We can sketch it, as follows: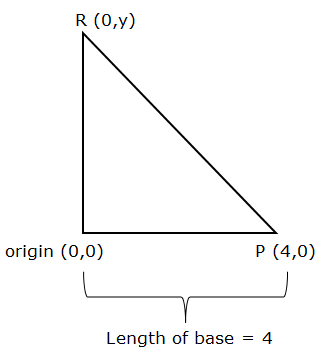 Given that one vertex falls on point (4,0) and the other vertex on point (0,0), we see that our base is equal to 4.
We are also given that the area of the triangle is 12. Using the formula for the area of a triangle and substituting the known values, we obtain:
area = (base x height)/2
12 = (4 x height)/2
24 = 4 x height
6 = height
The information above tells us that the distance between the origin and point R (which is on the y-axis) is 6. Thus, the y-coordinate of point R is 6.
Answer: B